Amsterdam (The Netherlands), March 5, 2007 -- Canyon, one of the world's fastest growing brands on consumer electronics and IT peripherals market, has launched a new series of trendy wired PC mice featuring latest optical sensor technology, enhanced performance and attractive design. The new products are immediately available at Canyon partners' stores across Europe, Middle East and Africa.
Canyon's new next-generation PC mice are aimed at demanding computer users and gamers. New Canyon products are the answer to the growing need among PC users for nicely-designed, ergonomic, high-performance and comfortable computer mice.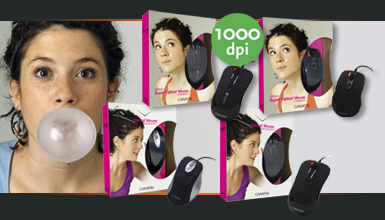 Canyon's wired super optical mice CNR-MSL4 and CNR-MSL5 allow users to experience PC work and gaming as never before, with innovative features and superior comfort. Gamers will appreciate improved dynamic movement to enhance aim and tracking ability. These mice feature an advanced 1,000 DPI laser sensor which ensures there is virtually no skipping or pixel jumping or negative acceleration.
The so called G-Laser used in these devices offers the solution to resolve the problem with most of the laser mice that fail to operate smoothly on shining and glassy surfaces. The innovative Dual Focus Lens on G-Laser is designed to not only work on both normal and shining surfaces, but also on transparent glass. Dual Focus Technology has combined the present laser and optical engine and provides the best tracking performance to date. Furthermore, the light from G-Laser Mouse is proven to be harmless to eyes.
The CNR-MSL4 is a compact device intended for mobile use. It has 4 buttons and a scroll wheel, while its senior 'desktop' version CNR-MSL5 is equipped with 7 buttons and a scroll wheel, including a dedicated button eliminating 'double clicking'. A molded plastic and rubber coating offers superior grip for even greater precision control.
Canyon has also released two new optical wired mice, aimed at regular home and office users. They feature stylish design and 800 DPI laser sensor ensuring stable and comfortable work with usual applications. The junior CNR-MSOPT3 model sports 3 buttons with a blue-light scroll wheel, while the CNR-MSOPT4 has an additional orange button for 'one-touch double-click'.

The products are covered by Canyon's 2-year limited international warranty.
Recommended retail prices in the EU:
CNR-MSL4 - Euro 14,99 (including 19% VAT)
CNR-MSL5 - Euro 19,99 (including 19% VAT)
CNR- MSOPT3 - Euro 6,99 (including 19% VAT)
CNR- MSOPT4 - Euro 9,99 (including 19% VAT)
The product is available at ASBIS offices throughout Central and Eastern Europe, Middle East and Africa.
About Canyon
Canyon is one the world's fastest growing brands within consumer electronics. The company has over 150 products in four product lines: Regular line, Sportsline, Platinum series and Value packs. Canyon Technology was founded in 2000 in Beaverton, Oregon, USA, and has its European head office in Amsterdam. For more information, please visit: www.canyon-tech.com